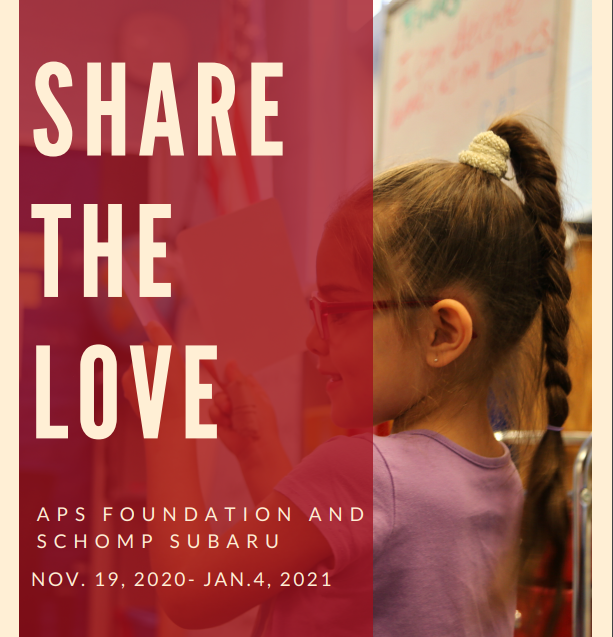 You can support the students of Aurora Public School with the purchase or lease of a new Subaru!
In need of a new car? Head over to Schomp Subaru! Between November 19, 2020 – January 4, 2021, Schomp Subaru will be hosting their annual Share the Love Event! For every car purchased or leased during this timeframe, Schomp Subaru will donate $250 to a charity partner, like the APS Foundation!
Schomp Subaru and the APS Foundation have teamed together to support personal financial literacy for the students of APS. By choosing the APS Foundation as your charity partner, you can support personal financial literacy education for up to 300 students! Did you know that 40% of Gen Z students don't have credit cards, checking accounts, or saving accounts? In addition, 89% of Gen Z students say financial planning makes them feel empowered!
Visit Schomp Subaru on Havana Street, and make an impact on the students of Aurora Public Schools!
About the APS Foundation
The Aurora Public Schools Foundation (APSF) serves almost 40,000 students. APS students come from more than 130 countries and speak over 160 languages.
To fulfill our vision of possibility becoming a reality for all APS students, we help fund initiatives that align with the APS 2020 Strategic Plan that every child shapes a successful future.
APSF fulfills its mission of cultivating investment to enrich student opportunity by creating a college-bound culture and career-ready workforce throughout APS, additionally, we support a robust scholarship program, STEM education, as well as other donor initiated projects.