Congratulations to James Laguana, Rangeview High School's Vocal Music Director, for earning Schomp Automotive's 2021 "Teacher of the Year" award!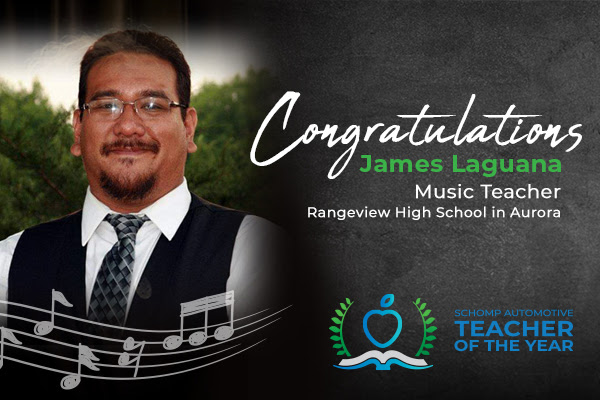 Throughout the COVID-19 pandemic, Mr. Laguana exceeded all expectations to ensure his students continue to shape successful futures. He has gone above and beyond the calls of duty, proving how adaptable, creative and truly reliable he is, even in the face of adversity.
The Schomp committee of education leaders reviewed more than a whopping 1,400 nominees. Mr. Laguana made the top six and received an overwhelming number of votes that quickly shot him to the top! We thank every APS student, family, staff and community member who helped him win. We are so excited to see him bask in the recognition he deserves.
Mr. Laguana will enjoy a three-year lease on a brand new Schomp vehicle with complimentary maintenance for the duration of the lease. Schomp Automotive will also donate $5,000 to the Rangeview Choir Program