Giving Back a Natural Fit for Golditch
Aurora 5K helps fund a scholarship in the name of the former CSU standout
Mike Brohard
6/20/2023
The name of the race can elicit a myriad of meanings for the community of Aurora.
The Hero's Journey 5K
The event will be held for the second time on July 22. The race (complete information about the day can be found here) begins at the RTD Aurora Center Station and concludes at the 7/20 Memoria Reflection Garden. Organized last year by the 7/20 Foundation in partnership with Zack Golditch and the Aurora Public Schools Foundation, the goal is to raise funds for the Zack Golditch Opportunity Scholarship.
The name of the race has multiple layers for Golditch, the former Colorado State offensive line standout who was a victim of the Aurora Theater shooting 11 years ago.
"The goal is still to remember the events of 7/20, but the Hero's Race celebrates and highlights those who are there to be the heroes for those who are battling adversity on an everyday basis," Golditch said. "I feel there are a lot of unsung heroes who are there for people who are going through things in their life. It's an uplifting event for everybody."
Golditch sees a community growing and moving forward every day as a firefighter at South Metro Fire Rescue, a post where a handful of former Colorado State football players are housed. He is now one of the first responders who were there for him the night of July 20, 2012, the summer before he arrived on campus as a recruit out of Gateway High School.
When he first reported, Golditch didn't want to be known as one of the victims of what at the time was the largest mass shooting in the United States. He was in the adjacent theater when a bullet came through the wall leaving him with a neck injury.
His goal was to make a name for himself away from that night, which he did. He claimed All-Mountain West honors on the field, earned his degree and went on to have a brief NFL career. Over time, Golditch has come to embrace it as part of his story and the man he has become, which is why he was so eager to lend his name to the scholarship.
"It's been an interesting journey with my attachment to that day. As a 17-year old kid, I'm still trying to build up myself, especially in the world of football. I was trying to make a name for myself beyond the story," he said. "I wanted to be known for my abilities on the field, not just the story. I should have realized the value and the impact of the story had on others, and I was reluctant to recognize and embrace that. As time as gone on, I've realized the impact the story has. I can own that. My story is my story, but it also represents everyone who helped to get me where I am today. It represents the strength of the community which surrounded me and is deep in the city of Aurora."
He was first approached by the 7/20 Foundation a few years ago, and the two sides spent time developing the right plan. Golditch liked the idea of a 5K, feeling it was an event the entire community could become involved with, whether they ran, walked or chose to volunteer.
Always somebody who was geared toward community service when he was a Ram, Golditch wanted the scholarship to reflect who he was coming out of Gateway. It was to go to an Aurora Public Schools graduating student-athlete who participated for at least three seasons. They needed to be a first-generation college student and carry at least a 3.0 GPA, like himself. Also mirroring him, they needed to be active in the community through volunteerism, community service or school involvement and demonstrate a financial need.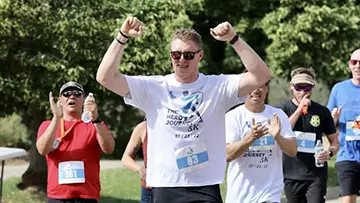 "He is an advocate who recognizes where he's come from and wants to support others – he talks a lot about his opportunity to go to CSU as a first-generation student and what that meant to him and now, he's turning around and offering that to somebody else.
Jill Ruiter
Naturally, his goals were big. He wanted to create a $10,000 scholarship (granted in equal parts over four years to ensure the continuing pursuit of a degree).
After meeting with Zack and his wife, Sara, Jill Ruiter, the Executive Director of Aurora Public Schools Foundation, was not surprised.
"I think with somebody like Zack, he sets his mind to it, and it happens," Ruiter said. "He is an advocate who recognizes where he's come from and wants to support others – he talks a lot about his opportunity to go to CSU as a first-generation student and what that meant to him and now, he's turning around and offering that to somebody else.
"I remember when Zack came to me last year with the idea of launching a scholarship. We didn't know how much money we were going to raise, and we exceeded expectations , the first year out of the gate."
The first scholarship was presented to Rosario Chavez Avila, at the end of the school year, who intends to study business management at Northern Colorado. Her school counselor recommended she apply for the scholarship, seeing a similarity in their stories, so Avila started by writing an essay about how she spent her summer trying to build a cohesiveness on her soccer team.
She also found she and Golditch share another common thread, a former teacher, Courtney Tanguma. Learning more about his story, the scholarship came carry deeper meaning for Avila.
"Honestly, it makes it feel closer. A few weeks later he texted me, and one time we were on a call together and I realized we both had a lot in common," Avila said. "He talked about why my essay stood out to him, that my letters of recommendation came from my coaches, who had seen me grow up from my freshman year."
None of what Golditch is doing surprises his former teammates. He was the player in the locker room who spent time getting to know everybody, not only introducing himself to every walk-on, but sitting down and listening to their story. The player who led by example and dug in for the work. The guy who was excited about reaching out to the community.
"That's Goldie. He's just a good-hearted person and he was always a pleasure to be around in the locker room," said former CSU offensive linemate Trae Moxley. "I knew the moment he went to the league he would do stuff as far as non-profits and fundraisers, things which really resonated with him.
"He leads with his heart. He doesn't forget where he came from."
Playing in the NFL was always the first plan for Golditch, which he did. Plan B was becoming a first responder, initially looking at the police force but coming to understand the work he would do as a fireman would suit him better.
Representing the group who was there for him during a horrific moment is not lost to him. Lending his name to a scholarship and an event which helps the community is a humbling opportunity.
"I was very, very fortunate where I didn't see a lot of things beyond the trauma to myself and the chaos at the hospital, the uncertain fear of not knowing what was really going on," he said. "How long ago it happened, it's helped to share my story and talk about it. It brings back a lot of memories, especially last year. I expect the same type of feelings, but to see the support from the community and know we're remembering the victims and survivors of that night, but also celebrating those who lifted us up. It's not supposed to be a sad event. It's not supposed to be super heartfelt, but more of a celebration of the uplifting that happened that day and the everyday hero in the community who helps somebody else out.
"I think back then it was the largest mass shooting in US history. There was no precedent to it. For us to have gone through that and rebound like we have, I think it really shows the strength in the community. I'm almost speechless with it. I know there are so many different things I have no clue which happened behind the scenes, but it seems like Aurora has grown from the event and we're strong because of it."
Golditch knows the race will recall memories and emotions for many in the community. His main goal is to make it an uplifting event, a reminder of how the city of Aurora has come together to heal and bring change.
What he sees daily as a firefighter on a daily basis is part of his inspiration. First responders are seen as everyday heroes in the community, but Golditch is proud to witness so many acts of kindness which often go unnoticed by the masses.
"You don't really know what people are going through on an everyday basis. The people who lend an open hand, give an ear to listen and be willing to be somebody to talk to, those are the people I'm trying to highlight," he said. "For me and so many others that day, it's a ripple effect. It didn't just affect me; it affected my family and my friends and those who weren't injured. It took a lot, and there were a lot of heroes who came to the rescue, big or small.
"That's where the name comes from."
As he seen, everybody needs a hero in their life every now and again. Sometimes, they're required when the person least expects the need for one in their life.