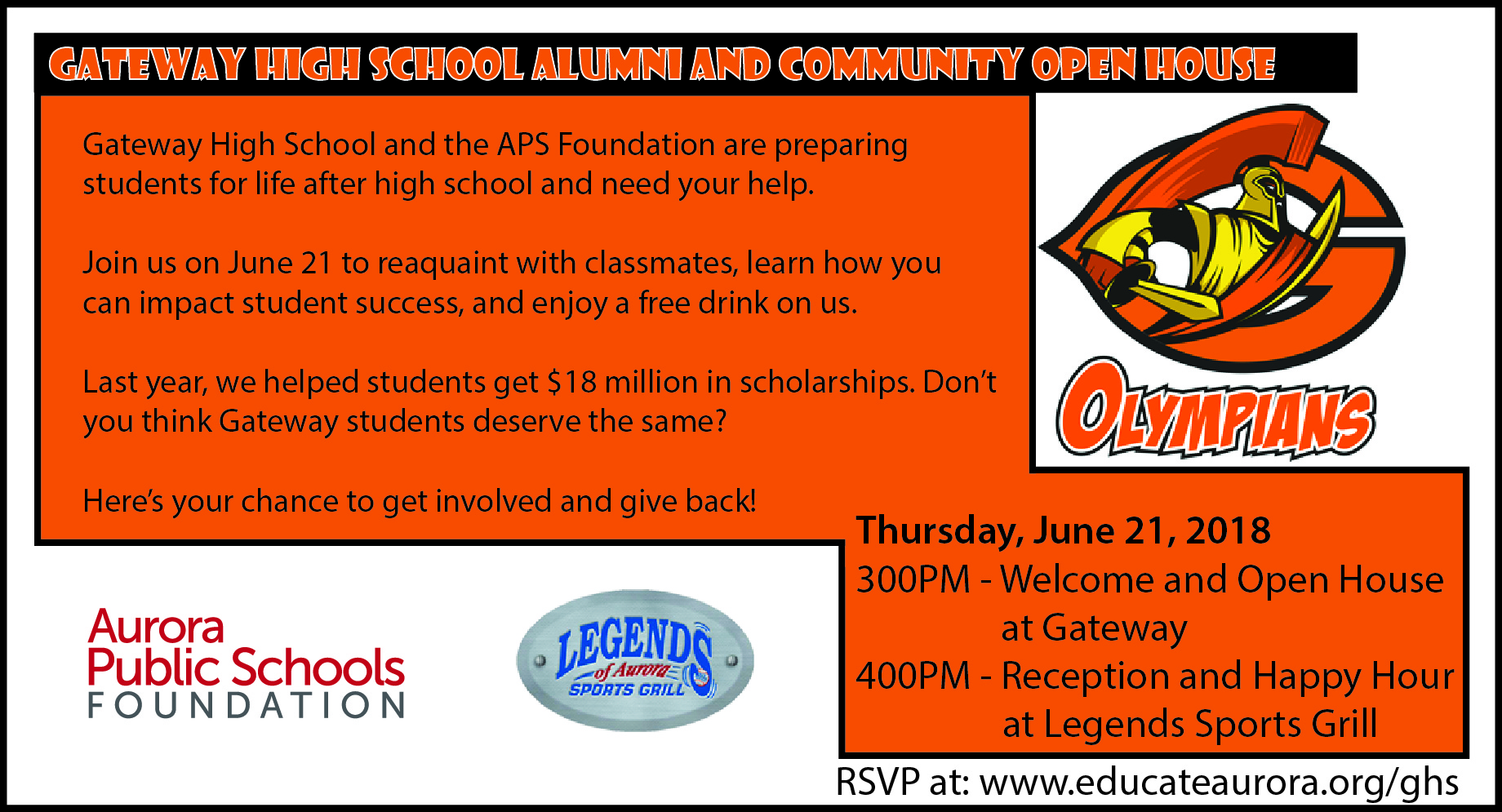 Gateway High School and the APS Foundation are hosting an Open House and Reception for Gateway Alumni and community on June 21, 2018. The event will feature a tour of the high school, remarks from school leadership and the APS Foundation, and an opportunity to assist Gateway students like Nadya.
Nadya will be the first in her family to go to college. She is the older of two children, born from Moroccan immigrants who moved to Aurora twenty years ago. Nadya has always been incredibly dedicated to her education after witnessing how hard her parents have worked to provide for their family.

After high school, Nadya wants to double major in Philosophy and Psychology at an Ivy League school, and eventually pursue a Ph.D. in Philosophy. However, when you are the first in your family to attend college, navigating the college process is very difficult.

Thanks to alumni like you, the APS Foundation launched a College and Career Center in her school during the 2016 school year. In our Centers, advisers guide students and their families through applying for financial aid and scholarships, completing college applications, preparing for college life, and understanding the dynamics of work-force opportunities like internships and vocational programs.

Our staff even helped Nadya visit several campuses, including Columbia and Yale Universities, which only ignited her dream of becoming a professor and author even more. Because of her hard work and the support she received, Nadya will be attending Harvard University in the fall of 2018 on a full ride scholarship!
Don't you think Gateway students deserve the same opportunity as Nadya? Unfortunately, Gateway does not have a College and Career Center yet. However, with your help, we can launch one next school year!
Please join us on June 21st to reacquaint with GHS alumni and community, and to enjoy some appetizers and a free drink on us!
3:00PM          Gateway Open House
4:00PM          Reception at Legends Sports Grill
Open to all graduating classes.
Last year, the APS Foundation helped students get more than $18 million in scholarships through our College and Career Centers. Now, we need your help to launch a College and Career Center at Gateway next school year.
Not able to attend? Consider making a donation in the amount of $50, $100 or $150 or more! Click here and simply note Gateway CCC in the Please Use My Gift For section.  Your donation is tax deductible.